Tom Colicchio Serves Up a New Show With Best New Restaurant
Talk about dine and dash! Top Chef's main man, Tom Colicchio, is serving up a new show that each week sees him running through the U.S. in search of the eatery most deserving of the titular stamp of approval.
What does it take to be the best new restaurant?
It takes being consistently really good. We have various restaurants–fast-casual places, a barbecue place, mom-and-pop joints, brew pubs–so it's important to understand what they're trying to accomplish and whether or not they're executing that concept.
Did you look at decor and cleanliness?
Oh, yes. That's exactly what we're looking at. This isn't a food competition. Obviously, food is important, but we're looking at service, hospitality, design, how it's maintained. We have a whole slew of diners who go into [restaurants] with hidden cameras and microphones to see how the establishments are doing when they don't know that they're being watched.
Do you have a favorite ingredient to cook?
I love mushrooms. You know when you were a kid and you made mud pie? Somewhere along the line, you probably tasted one, right? I think mushrooms are the closest you can get to eating dirt, and that takes you back to that childhood moment.
You eat so much for your job. How are you not 7,000 pounds?
I struggle, man! [Laughs] I try to watch what I eat and the amount I drink. You don't realize every drink or cocktail is 120 or 200 calories.
You, Gordon Ramsay, and Anthony Bourdain walk into a restaurant…how big is that bill?
Depends on who had the wine list! I've never met Gordon, but I imagine if he had the menu, we'd be in trouble. I know Anthony well, and if he did the ordering, we'd be eating stuff you can't eat a lot of anyway. Like yak milk or something. [Laughs]
Best New Restaurant, Wednesdays, 10/9c, Bravo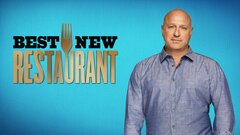 Powered by