Cougar Town: Down to the Last Drop
Winter Preview | Cougar Town, Tuesdays, 10:30/9:30c, TBS
The cul-de-sac crew is back for its final season, and there's not enough wine in the world to take away that pain. "Hey, we made it six seasons," says executive producer Bill Lawrence, citing the comedy's life-saving move from ABC to TBS back in 2013. "I guess I can't complain." Adding to Lawrence's gratitude is the fact that he has known the end was coming since May, which has given the writers time to properly put a cork on the comedy.
Not that they felt pressure to "reinvent the wheel," as Lawrence puts it. "This has always been a show about how we while away our time as adults," he says. "So we're just trying our darnedest to build to a satisfying conclusion."
Along the way, expect some bumps. Ellie (Christa Miller) is heading back into the workforce, Jules's (Courteney Cox) aging dad (Ken Jenkins) adjusts to living under her roof, and a tiny neighbor will join the party after Laurie (Busy Philipps) and Travis (Dan Byrd) finally have their baby, forcing Jules to face life as a–gasp!–grandmother. "Courteney was originally twisted about playing that in real life," says Lawrence with a laugh. "But she has fully embraced it, and it's really funny."
Not so funny for longtime viewers is the loss of Brian Van Holt's beloved bumpkin Bobby, who leaves in Episode 2. "Bobby has always been the goofiest but also the saddest character on the show," offers Lawrence of Jules's ex. "He lives on a boat in a parking lot; he's never coupled up–he's the one in this group who's kind of stuck, and as long as he hangs out with them, he'll never get anywhere." Without spoiling what takes Bobby away from Florida, Lawrence promises a potentially happy ending for the character and notes that viewers will see Van Holt again. "He was very cool to come back for the goodbye." With friends like this, how could he not?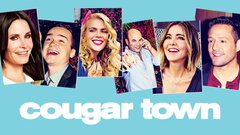 Powered by