Law & Order: SVU's Mariska Hargitay Directs as Armand Assante Guest Stars
Directing Law & Order: SVU guest star Alec Baldwin last season in her maiden voyage behind the camera turned out to be so fulfilling for Mariska Hargitay that she returned to helm the January 22 episode of the series. And her sophomore effort is a doozy, focusing on the torturous relationship between Det. Nick Amaro (Danny Pino) and his estranged father, Nicholas Sr. (Armand Assante).
"I love telling stories," says Hargitay, who has played sex-crimes cop Olivia Benson for 16 years. "As a director, I get the chance to shape how the story gets told and how a person watching the show ends up experiencing it. Plus, I really like actors and have a lot of respect for those who are willing to risk." To that end, Pino says fondly, "She kicked my ass to get me to explore more precarious and risky areas."
The episode finally reveals what is fueling Amaro's bouts of anger toward authority figures and, Pino says, "perhaps his true
motive for joining the elite squad after being a lone-wolf narc. Amaro has to face down his biggest demon, his abusive and absentee father, whom he's successfully eliminated from every facet of his life. But like most demons, he's come creeping back."
In this case, the bad dad is accused of repeating his domestic-abuse history and beating his much younger fiancée–at their rehearsal dinner. "He shows up on Nick's home court with an air of entitlement, familiarity, and arrogance that intentionally pushes all of Nick's buttons," says Pino. "The good news is that now Nick has to face and work through his unresolved issues with his father and within himself. The bad news is he'll likely have to do it without the support and love of his family."
At its core, the installment is about "loyalty, allegiances, pain, honesty, and ultimately growth," says Hargitay. "Big themes that get down into our tender parts that we try to protect at all costs." Sounds like someone's in for a heap of hurt.
Law & Order: SVU, Wednesdays, 9/8c, NBC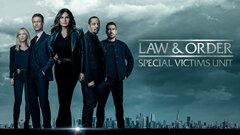 Powered by