'The Voice': Reba Gets Competitive With 'Mean' Coaches in Season 24 Preview (VIDEO)
The Voice is gearing up for a whole new phase as the singing competition welcomes Reba McEntire, who is stepping up as a coach following the departure of longtime fixture Blake Shelton.
The country queen is set to serve alongside returning coaches John Legend, Niall Horan, and Gwen Stefani, who are all fairly welcoming to the newest member of the team. In a new first-look teaser released by NBC, Reba's learning a thing or two about getting mean in order to hold her own in the battle to find a perfect team of singers through the Blind Auditions.
In the black-and-white segment above, Reba is seen joining the fray, with Niall remarking, "It's like the first day of school," as he walks into the studio. As fans may recall, Niall was the winning coach last season as he guided teen Gina Miles to victory.
Needless to say, Reba is desperate to get a crash course in coaching for The Voice. "Am I supposed to like y'all? Be mean to you? Is there something that I need to know to let me win?" she asks innocently. The advice she gets isn't very helpful as John, Niall, and Gwen all tell Reba to send contestants their way.
"I'm looking forward to a little bit of a battle with you guys," Niall says, pointing to his fellow coaches before they take the stage.
Following the Blind Auditions, Reba can't get over how mean her fellow coaches were. "The Blind Auditions were so much harder than I thought they were gonna be. They block you and it's just so devious, but a lot of fun, too," she says to the camera candidly. From her chair, she notes that the coaches change their personalities when onstage. "They're real mean. Especially Gwen," she says seriously before letting out a laugh.
Don't miss the coaches when the fun kicks off. Tune into The Voice when it premieres with Season 24 on NBC, and catch the fun first look, above.
The Voice, Season 24 Premiere, Monday, September 25, 8/7c, NBC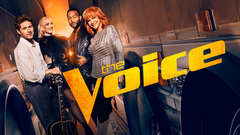 Powered by