What's Worth Watching: 'Six', 'People's Choice Awards', 'Fresh Off the Boat' and more for Wednesday, January 18
Six (10/9c, History): After many a meaty scene-stealing supporting role (The Shield, Justified, Sons of Anarchy), Walton Goggins graduates to leading man in History's grueling new military action drama. He's "Rip" Taggart, the former leader of a tight-knit Navy SEAL team who lost his way after a bloody mission in Afghanistan went sideways. Two years later, he's a cynical, burned-out anti-hero, a mercenary gun for hire who falls afoul of Boko Haram terrorists in Nigeria during a violent raid on a local school. When he's captured, with his Navy SEAL past making him a target for special retribution, his band of loyal brothers go back into action, leaving turbulent home lives behind. Six is solid combat drama, with few surprises in the first episodes but delivering on its promise of explosive, macho action. And as always, Goggins is terrific.
People's Choice Awards 2017 (9/8c, CBS): You know you're not watching the Emmys when a "favorite TV show" category can include the often-ignored likes of The Big Bang Theory, Grey's Anatomy, The Walking Dead and (my personal fave) Outlander. And so it is with this fan-driven ceremony, hosted by Joel McHale and featuring performances by two of last year's winners: Blake Shelton (favorite male country artist) and Fifth Harmony (favorite group). The ubiquitous Tyler Perry will take home the fifth People's Choice Award for Favorite Humanitarian.
Fresh Off the Boat (8/7c, ABC): Fans of this irreverent family comedy aren't seeing double. ABC is presenting a second episode this week with a special Chinese New Year theme. It promises to be a great showcase for the hilarious Constance Wu as tightly wound tiger mom Jessica, who urges the family to settle all their debts and disputes for good luck in the year ahead. But she also knows she must practice what she preaches, so she enlists adorable Emery (Forrest Wheeler) to help keep her lid on.
Inside Wednesday TV: When Maya (Minnie Driver) and Kenneth (Cedric Yarbrough) get sick, everyone else improvises to keep things as normal as possible for this wacky family, on ABC's freshman hit Speechless (8:30/7:30c). … The great Gladys Knight appears as herself on Fox's Star (9/8c) when the salon arranges for the legendary singer to help introduce their showcase at a hair show. As a bonus, the girls sing a cover of one of her greatest hits. … A new season of Discovery's Bering Sea Gold (10/9c) finds the mining families in and around Nome, Alaska taking even bigger gambles in hopes of striking it rich.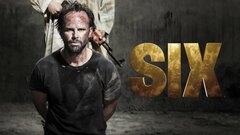 SIX
where to stream
Powered by