Romance Gone Wrong on 'Accused,' 'American Auto' Goes Green, 'Real Sports,' Will Trent vs. Neo-Nazis
Accused
The compelling crime-drama anthology scores again with a timely episode directed by the fierce Tony (Kinky Boots) and Emmy winner (Pose) Billy Porter. J. Harrison Ghee, a standout in the current Broadway revival of Some Like It Hot, stars as Kevin, a Boston teacher who lets loose after hours as proud drag queen Robyn Banks. Their life takes a dark turn when Kevin/Robyn falls for closeted Jamie (Chris Coy), a married man with anger issues. The affair escalates into tragedy and a trial with an unexpectedly glittery resolution.
American Auto
Superstore's Ben Feldman guests on the satirical big-business sitcom as Chase, a smarmy friend of the irredeemable Wesley (Jon Barinholtz), pitching a particularly out-there brand of green tech that Payne Motors considers as an investment—not to save the world, but to boost their stock price. At least one of the team suspects "a Theranos-type situation," and yet (in a highly amusing sequence) buzz builds so rapidly around Chase's so-called Sand Box that it's going to cost them in more ways than they expect.
Real Sports with Bryant Gumbel
The acclaimed sports newsmagazine's monthly edition features correspondent Mary Carillo's profile of Aaron "Wheelz" Fotheringham, known as the godfather of extreme wheelchair sports. Born with spina bifida, Wheelz has made a name for himself with his daredevil jumping, flipping and crashing. Other reports include Jon Frankel's visit to the North Shore of Oahu, where lifeguards regularly come to the rescue of surfers after dangerous wipeouts, and David Scott's investigation into why Switzerland is a haven for so many sports federations, including FIFA.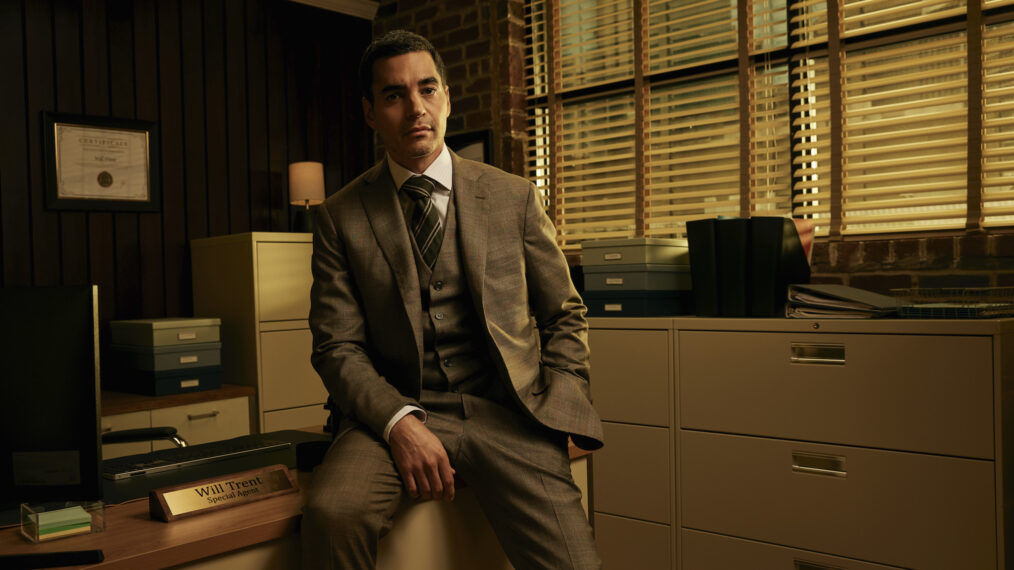 Will Trent
Will (Ramón Rodríguez) and the GBI go after a neo-Nazi organization when they catch wind of an attack being planned. The stakes seem less high for Angie (Erika Christensen), who's investigating chaos at a sneaker release, but she's about to face a possibly life-changing moment.
INSIDE TUESDAY TV:
FBI (8/7c), A full night of FBI dramas begins with OA (Zeeko Zaki) in a panic when his investments begin to fail.
9-1-1: Lone Star (9/8c, Fox): Dispatcher Grace (Sierra McClain) deals with a boy-who-cried-wolf situation when a kid who overuses 9-1-1 finds himself in real danger.
La Brea (9/8c and 10/9c, NBC): You're invited to the wedding of therapist Ty (Chiké Okonkwo) and Paara (Tonantzin Carmelo) in 10,000 B.C., but things get dire in the episode that follows, when a dangerous horde awakens from beneath the Clearing.
The Rookie: Feds (9/8c, ABC): Love is in the air for the FBI and NYPD in an episode bounced from its scheduled Valentine's Day slot by the State of the Union earlier this month.
Don't Leave Me Behind: Stories of Young Ukrainian Survival (10/9c, MTV): In recognition of the 1-year anniversary of Russian's invasion, a commercial-free documentary catches up with teenage civilian refugees forced to leave their homeland while their fathers stayed behind to fight.
Kathleen Madigan: Hunting Bigfoot (streaming on Prime Video): The popular comedian performs a stand-up set from Denver with riffs on millennials and her aging parents.