Woody Harrelson to Become 'Saturday Night Live' Five-Timer With Upcoming Hosting Gig
Another Saturday Night Live favorite is joining the NBC show's hallowed Five-Timers Club: Woody Harrelson is hosting the sketch-comedy series' February 25 episode.
SNL's Twitter account announced Harrelson's upcoming five-peat, adding that Jack White will be the musical guest.
Harrelson, who won an Emmy Award for his part on Cheers and has three Academy Award nominations to his name, previously hosted SNL in 1989, 1992, 2014, and 2019.
The White House Plumbers actor also popped up in Cheers costar Kirstie Alley's SNL monologue in 1991. And in 2019, he played then-presidential candidate Joe Biden in two SNL episodes.
Saturday Night Live's other five-timers are John Mulaney, Paul Rudd, Jonah Hill, Dwayne Johnson, Melissa McCarthy, Justin Timberlake, Ben Affleck, Candice Bergen, and former SNL cast members Bill Murray and Will Ferrell.
Other SNL veterans have hosted even more times. Tina Fey, Scarlett Johansson, Drew Barrymore, Danny DeVito, and Elliott Gould have all hosted the show six times. Christopher Walken has hosted seven times, and Chevy Chase has hosted eight.
And some SNL hosts have gotten into the double-digits: Tom Hanks and the late Buck Henry have 10 hosting gigs to their names, John Goodman has 13, Steve Martin has 16, and Alec Baldwin has 17.
Mulaney was the latest inductee into the Five-Timers Club, reaching that milestone in February 2022. In a sketch during that episode, Rudd, Bergen, Martin, Fey, and Gould welcomed the comedian into the club… while Conan O'Brien, who has hosted once, crashed the meeting to sign up for Peacock.
Saturday Night Live, Saturdays, 11:30/10:30c, NBC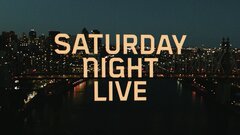 Powered by