'Justice League Action' Brings Superhero Fun Back to TV
Contrary to some recent feature-film depictions, superheroes can be fun. The new Cartoon Network series Justice League Action—starring beloved characters pulled from almost 80 years of DC Comics lore—evokes the classic Super Friends cartoons, with adventures suitable for all ages. And we do mean all. "We wanted to make a show that would bring in younger viewers and at the same time satisfy the die-hard DC fans," says producer Jim Krieg. "Although there is comedy, it's more of a workplace comedy, but the workplace is a superhero arena, and we take that seriously." (Krieg, whose credits include Green Lantern: The Animated Series and Spooksville, is producing the show with animation vets Butch Lukic and Alan Burnett, so the hardcore comics crowd can rest easy that the show is in good hands.)
The series gets a special premiere on Friday before moving to its regular timeslot (Saturdays, 7:30am/6:30c) on Dec. 24. Each 11-minute episode will feature at least one of DC's "Big 3": Batman (voiced by Kevin Conroy, who has played the Caped Crusader in countless animated incarnations for almost 25 years), Superman (Jason J. Lewis) and Wonder Woman (Rachel Kimsey). They'll team up with a rotating roster of dozens of heroes, including Green Arrow, Booster Gold, Firestorm and John Constantine.
The high-profile voice cast includes Cloris Leachman (as the villain Granny Goodness), James Woods (Lex Luthor), Hannibal Buress (Mister Terrific) and The Walking Dead's Khary Payton as Cyborg (a role he also voices on Teen Titans Go!).
There's a big Star Trek contingent in the cast as well. Brent Spiner is the Riddler and Michael Dorn and Armin Shimerman are members of the evil Red Lantern Corps, Atrocitus and Zilious Zox, respectively. "Our casting director, Wes Gleason, pegged me early as a Trekkie, so he knew which actors I would never say no to, to make his job easier," Krieg says with a laugh.
RELATED: Young Justice Lives! Warner Bros. Announces Third Season of Beloved Series
Star Wars icon Mark Hamill keeps busy as the Joker (a role he's been playing alongside Conroy since the days of Batman: The Animated Series), the Trickster (a character he's played in both live action versions of The Flash) and Swamp Thing. "We try to get as much mileage out of Mark as possible, and he's a good sport about it," Krieg says. "He seems to relish doing the comedy."
Though the nostalgia quotient should have older geeks squealing, the jaunty tone will put parents at ease. "Frankly, I'm excited to see superheroes back on Saturday mornings," Krieg says. "There will be a whole generation of kids who should get up and watch TV in their pajamas while eating sugary cereal in front of the tube."
Justice League Action, Series premiere, Friday, Dec. 16, 6/5c, Cartoon Network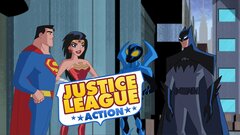 Powered by