The Walking Dead: Season 4 Secrets From the Set
In order to enter Andrew Lincoln's trailer on the Senoia, Georgia, set of The Walking Dead, you must first step on a Duck Dynasty welcome mat — not exactly the greeting you'd expect from the 40-year-old British graduate of the Royal Academy of Dramatic Art. "[Costar] Norman [Reedus] gave it to me because I just love that show," Lincoln raves. Turns out, Lincoln is embracing his character Rick Grimes's new storyline in Season 4 of AMC's hit zombie series.
"He's now Farmer Rick, the pig farmer!" Lincoln says with a chuckle. "Before you know it, we'll be getting duck whistles."
Season 3 was no laughing matter for Rick and his band of survivors. After they stumbled upon their new sanctuary, the prison, the group's numbers dwindled (R.I.P., Lori, T-Dog, Merle and Andrea), and an outside menace loomed in Woodbury tyrant the Governor (David Morrissey). "It was the worst of years, and Rick's had some bad years," Lincoln says. "So he's relinquished leadership and denounced brutality because he has responsibilities much closer to home that he needs to address."
Those duties include working in the fields as well as refocusing his attention on raising his son, Carl (Chandler Riggs), who has rapidly morphed into a child soldier. (Last season he shot and killed a member of the Woodbury army in cold blood.) "The theme for this season is, 'Are we too far gone?'" says executive ­producer Scott Gimple, who took over as showrunner after Glen Mazzara's departure last year. "'Can we go back to the people we were? Can we enjoy life, have close relationships, and can we even love anymore?' Even though they've found some kind of stability, they have a lot of challenges."
Season 4 picks up a few months after the events of last March's finale. The former residents of Woodbury have been welcomed inside the prison and have even formed a governmental committee to ensure their lasting safety. But with new blood comes new risks. "There are threats from within and without, all descending upon them at the same time," says executive producer Gale Anne Hurd. "Our characters respond in different ways. Some rise to the occasion, while it brings out the worst in others."
Viewers will meet familiar faces from the Walking Dead comic books — including U.S. Army veteran Bob Stookey (Wire alum Lawrence Gilliard Jr.) — but the writers have tinkered with the storytelling structure to better serve individual characters through flashbacks and other unconventional narrative devices. The producers and actors credit the new direction to Gimple, who penned the popular Season 3 episode "Clear," which explored the psyches of Rick, Carl and Mich­onne (Danai Gurira). "Every character has a ­beginning, middle and end, and we service those stories," says executive producer and special-makeup-effects supervisor Greg Nicotero. "There are little mini arcs among some of the bigger story arcs, so everything has its place and all the pieces fit together."
"It's not as kinetic or action packed — it's a much quieter season and very much more about the character development," Lincoln says. "Don't get me wrong: We've still got some insane action sequences, but they're being driven a lot more by story."
The prison — with gardens, stables and a slew of new booby traps to keep out walkers — remains the home base for most players, but Mich­onne, who previously traveled with two leashed zombie companions, now embarks on missions atop a new equine sidekick. "The horse is a great new pet — a prettier one — so she can go on her business trips, but she can always come back home," Gurira says. "But she does have some unfinished business that she needs to confront."
Although Gurira doesn't offer any specifics about Michonne's objective, revenge could be on her mind, since the Governor is still a danger to the group as a whole. "We're going to meet again," Lincoln says. "And there will be blood, as they say." (The Governor's whereabouts will be revealed in two flashback episodes later this season.)
Even with these new and returning threats, the heart of the show is the horrific violence wrought by zombies. In fact, in response to a sequence in the season premiere, AMC sent its first-ever note regarding gore. "It was a very respectful, light-touch ­conversation, and they were supercool in the end, but there was an hour or two of total tension," Gimple says.
"It's the [episode] I directed, so you would expect there to be some cool stuff," Nicotero elaborates. "But it's almost like, 'Have we gone too far?'"
This story was originally published October 4, 2013.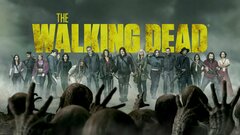 Powered by