'MAFS': Katina Seeks Advice From Jasmina & Michael in a First Look (VIDEO)
Married at First Sight is back with an all-new episode on March 30 and we have an exclusive first look at the drama unfolding in, "Settling In or Just Settling."
In the sneak peek clip, above, Katina seeks advice from Jasmina and Michael following a fight with Olajuwon. If viewers will recall, the Season 14 couple got into a big argument over him discovering a dating app on her phone.
While Katina defends that she wasn't using it and merely forgot to delete it amid the excitement of their marriage, Olajuwon doesn't respond to the explanation too well. Now, it seems that Katina and Olajuwon aren't speaking to one another as they cool off.
"I know Olajuwon is still working on his tone but I'm not seeing a change and today the tone that he used just wasn't okay," Katina tells viewers during a confessional segment in the clip, above. "So for me, it's thinking… is this something that you're going to do again to me? And I don't know if I would be able to see myself with someone who operates like that."
Sitting with Michael and Jasmina in their kitchen, Katina is asked by Michael, "how did you guys leave off the conversation. Did it get resolved in any way?"
Katina's answer is less than satisfying as she reveals that they didn't get far claiming that Olajuwon said, "you need to cool off."
See Also
Things are weird between the pair after their bowling alley feud.
"- to finish the conversation?" Jasmina interjects, attempting to finish Katina's statement, but Katina is honest when she saysof Olajuwon's reaction to the app being present on her phone, "we tried to have the conversation, but no matter what I say to him, in his mind it's still always gonna be like, 'but you still had it on your phone.'"
As the conversation proceeds, Katina is brought to tears, see how it all unfolds in the segment, above, and don't miss a new episode of Married at First Sight on Lifetime this Wednesday.
Married at First Sight, Season 14, Wednesdays, 8/7c, Lifetime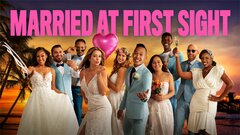 Powered by