'Dr. Ken': Holiday Hardship for Clark at Thanksgiving
As we all know too well, Thanksgiving is a time for spending time with friends and family and if eating some turkey and pumpkin pie happens, all the better. However, the holiday can also drudge up feelings from the past and that's what happens in this week's holiday episode of ABC's Dr. Ken.
The sitcom, starring Ken Jeong as the titular character juggling life at home and his bustling HMO practice, is currently in its sophomore season and brings much humor this week when Ken tries to derail the family's plans to go to Allison's (Suzy Nakamura) family for Thanksgiving dinner.
The holiday is a bit tougher on Clark (Jonathan Slavin, above, right, with Stephen Guarino), who is volunteering at a homeless shelter with some of his co-workers. Slavin gave us a preview of why Clark is having such a hard time being thankful.
What can you say about the Dr. Ken Thanksgiving episode?
Ken and the family go to visit Alison's family and then all the HMO people come to support Clark at this homeless shelter where he volunteers every Thanksgiving. Clark is kind of a maniac and trying to make everything perfect and screaming at everyone. The stakes around it are just really, really high and then the episode explores some of why that is.
RELATED: First Look at the Dr. Ken/Shark Tank Crossover Episode
How was it for you to play this episode, because it does get serious?
The writers had pitched an idea that I liked but I was having a hard time connecting to and then I went back to them and pitched something that felt a lot more personal to me, which was what we ended up shooting. I was very grateful that they gave me such a wide breadth on this and let me guide where I hoped that we could go with it.
What's nice about this is that Clark is so emotional all the time and then in this moment, when he's talking about things that are difficult for him to talk about, we actually see him trying to go, "This is not a big deal and I'm not going to get emotional about it," which feels very human to me. I really appreciated that they explored that side of him.
And Clark's steady boyfriend, Connor (Stephen Guarino), has always been a part of the world, including in this episode.
I give our creator, Mike Sikowitz, so much credit it for that. People always put the focus on Clark as a gay character and what's it like having a gay character? Where I really think the show sets such a beautiful tone is that nothing has ever been said about Clark being gay. People don't just take their cue from Clark being gay, they get to take their cue from seeing that Damona (Tisha Campbell-Martin), Pat (Dave Foley), Ken, no one cares. No one is invested in his sexuality, they're only invested in his happiness. That is just a beautiful thing to model and I hope where the world is heading, I'm not so sure based on the last week or so, but I hope it's where we're heading. That we all just want the best for each other and we can be open-minded about what that means for everybody.
What else is coming up for Clark in future episodes?
We're actually shooting our Christmas episode right now and our relationship in this episode moves very, very firmly to the next level. Without being too spoil-ery I'll tell you that. We definitely take a big jump this episode. I've played a lot of gay characters who were never in relationships with anyone and to be in such a serious relationship [on the show] is just great. I love that.
What else are you up?
I'm also appearing on Speechless [as Mr. Powers] and I am volunteering with Farm Sanctuary, which is a farm animal rescue that's across the country but has locations here in L.A. and also in New York. I actually just completed my training to be a mentor with the Life Works Program at the Gay and Lesbian Center where you get assigned a young LGBT person who's looking for a mentor and you mentor them for a year. And I got married!
Congratulations!
We had a party and didn't tell anyone that we were getting married and then halfway through the party we were, "Hey, hold on a second! Surprise! We're getting married, now go back to the party." It was perfect. We definitely weren't beginning our lives together because we're 22 years in but it was still nice to stand up in front of our friends and say, "This is legal and we're doing it!"
Dr. Ken, Fridays, 8:30/7:30c, ABC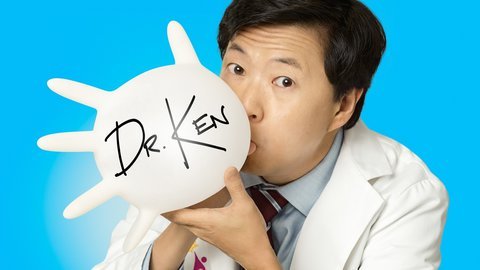 Dr. Ken
where to stream
Powered by