Roush Review: 'State of the Union' Is a Bittersweet Valentine
Can this marriage be saved? Should it?
Heady questions to tackle on Valentine's Day, launch date for the wittily bittersweet second season of State of the Union, writer Nick Hornby's Emmy-winning romantic-dramedy anthology. Airing over 10 nights on SundanceTV, each episode, directed by Stephen Frears, is comprised of a brisk but deep 10-minute conversation. (The entire season can be binge-watched in one satisfying gulp on AMC+ and Sundance Now.)
The casting is again impeccable. Following the high standard set by Rosamund Pike and Chris O'Dowd in the first season, this more mature storyline is marvelously and sensitively acted by Emmy winners Brendan Gleeson (mostly masking his Irish brogue) and Patricia Clarkson. The vignettes tell the story of Scott and Ellen, a well-off Connecticut couple whose 30-year marriage appears to be sputtering to an unhappy demise. Think of it as Scenes from the End of a Marriage.
"I think I want a divorce," Ellen tells a flabbergasted Scott in the first of their weekly meetings at a trendy coffee shop. (They're the warm-up for the trip upstairs to their marriage counseling sessions.) Over the weeks, as Scott learns to appreciate the artisanal brews so foreign to his nature, the two observe how far they've drifted apart, discussing matters of faith, intimacy, fidelity, even their taste in movies. (Listen for the reference to a certain Churchill movie, which may or may not be the HBO film Into the Storm that won Gleeson a 1999 Emmy.)
For comic relief, Scott's blustery interactions with a playful nonbinary barista (Esco Jouléy) reveal how he's evolving and expanding his worldview. "I can't just go on being me, not if I want to stay married to you," he eventually realizes.
But is it too little too late, and will it ever be enough?
State of the Union, Season Premiere, 10/9c, Sundance TV (also streaming on AMC+ and Sundance Now)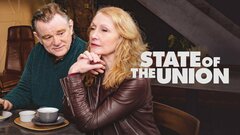 Powered by