Trevor Noah on How Speaking Multiple Languages Has Helped His Comedy (VIDEO)
Trevor Noah is one of the most popular figures in entertainment today. He anchors The Daily Show on Comedy Central and tours around the world doing his stand-up.
But the comedian came from very humble beginnings while growing up in a racially and politically charged South Africa.
Noah, in the PBS series Breaking Big, identifies what he thinks make him stand out in the world of comedy.
"I speak many of the languages [in South Africa]," he tells host Carlos Watson in this exclusive clip. And in his stand-up shows, Noah frequently switches between languages.
"Now in a country where everybody's divided, if you're the person who can speak all of the languages, you immediately possess something that not many people do," he says.
Watch the clip below:
Breaking Big, Fridays, 8:30/7:30c, PBS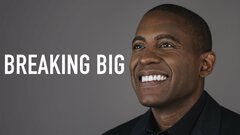 Powered by