'This Is Us': A Halloween Treat (RECAP)
[Spoiler Alert: This recap contains spoilers from "The 20's," Episode 6 of This Is Us Season 2.]
In a This Is Us first, fans were treated to a special Halloween-set episode that spans two timelines. As hinted at in the episode's title, "The 20's," viewers finally got to see what life was like for "The Big 3" when they were in their twenties. The episode alternated between those formative years and the Pearson kids' lives at ten during a family trick-or-treat outing.
In this new timeline, an Obama-era Randall (Sterling K. Brown) and Beth (Susan Kelechi Watson) are expecting their first child, while also recovering from Randall's first mental breakdown a couple months prior. When Rebecca (Mandy Moore) arrives on Halloween for the baby's birth, Beth confides that she is unsure of how Randall will be able to handle the challenge of parenthood. While Randall struggles to install a ceiling fan (which Beth and Randall name their daughter Tess after), he opens up about his concerns about fatherhood with an unlikely source—a hardware store worker. The quick therapy session allows Randall to rise to the occasion when Rebecca calls to say that Beth has unexpectedly gone into labor.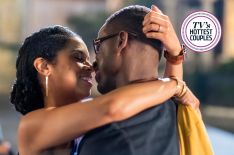 See Also
This couple navigates life's ups and downs and still keeps things sizzling.
All of Randall's insecurities are mirrored by his former self in the older timeline where he wants to follow a carefully crafted map, whereas Kevin and Kate want to visit the neighborhood's haunted house. When Jack (Milo Ventimiglia) remarks to Rebecca that they enable his anxiety, she decides to take Randall while letting the other children tag along with Jack. Once Rebecca finally decides to make Randall talk, the reason for his rigidness is revealed. Apparently, a family in the neighborhood told Randall that Jack and Rebecca had lost a child, and the map was a clever way to try and avoid them.
Of course, Randall had known he was adopted but Rebecca has to reassure her son that he was always meant to be a Pearson, even before her and Jack lost a child. These insights explain a lot about Randall's anxieties and mysterious episodes that had been referred to in the first season, and prove that time apparently doesn't heal all wounds, as the first episode viewers saw was more recent in the show's timelines. Since the addition of Déjà (Lyric Ross) to the family, it will be interesting to see how Randall's mental health fares.
While Randall is experiencing the joy of his daughter's birth, Rebecca is coming to terms with her grief over the event, since Jack isn't there to share the moment. And in what proves to be one of the more shocking moments of the episode, Rebecca joins the digital world by creating a Facebook profile, leading to what seems to be the origins of her realtionship with Miguel (Jon Huertas). In a comment left on her first post, Miguel asks how life has been for Rebecca since they last saw each other eight years ago, clearly indicating that they were not involved prior to this interaction.
See Also
This week, 'This Is Us' proved that there is still a lot to learn about the Pearsons.
Unbeknownst to Kate (Chrissy Metz) and Kevin (Justin Hartley), while their mother and brother are dealing with this life altering experience, they are just trying to get by. Kate is taking classes and sleeping with a married man – a far cry from her life in the present timeline. She also continues to grieve the loss of Jack, sitting outside the lot where their old house stood, only heightening the desire to know what happened regarding the series' biggest question. Kevin is working in a salon and hasn't auditioned in more than a year for any parts while trying to make it in LA. The future star doesn't do himself any favors when he vies for a part that his roommate recently landed in a Christian Bale movie. The birth of baby Tess brings them back together and the siblings finally face the fact that they need to make a change in their lives—their answer to that change is to move to LA together.
As for Jack and young Kate and Kevin on Halloween night, the trio visited a haunted house, where Kevin gave all his candy to a boy named Billy so that he'd hold Kate's hand. Jack's observation proves that no matter the situation, his kids have each other's backs, and the realization continues to be validated when they push each other to strive for better. Time will tell if Kevin and Kate can do the same for each other since she will surely be swept up in baby planning, while he is dealing with his addiction struggle.
This Is Us, Tuesdays 9/8c, NBC
Powered by