Late Night Hosts Take on Trump's 'Most Dishonest & Corrupt' Media Awards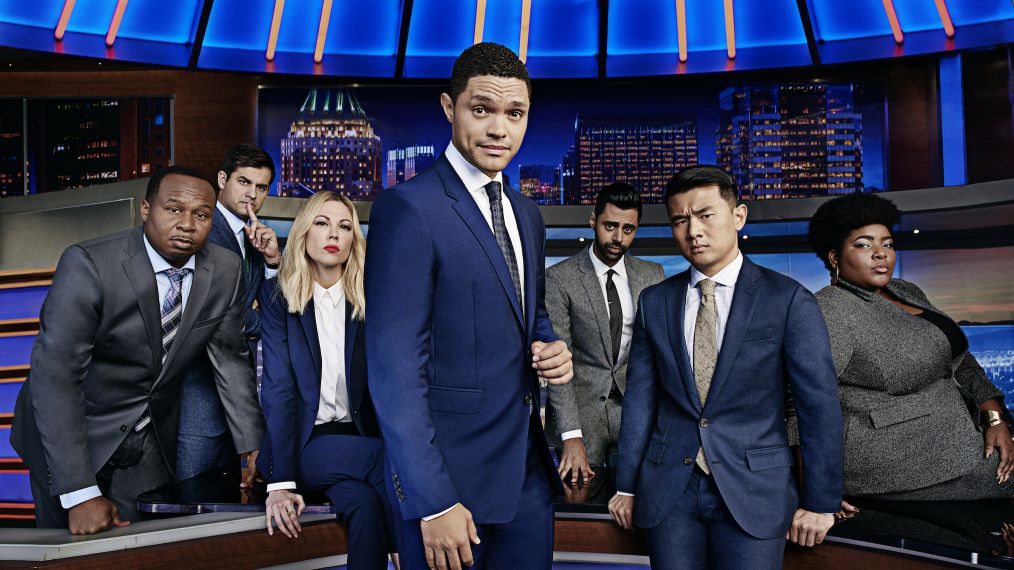 Forget starting off the new year fresh—President Donald Trump has just continued with his usual stream-of-conscious rambling on Twitter. On January 2, he announced he's launching something no other president as launched before: an awards ceremony.
I will be announcing THE MOST DISHONEST & CORRUPT MEDIA AWARDS OF THE YEAR on Monday at 5:00 o'clock. Subjects will cover Dishonesty & Bad Reporting in various categories from the Fake News Media. Stay tuned!

— Donald J. Trump (@realDonaldTrump) January 3, 2018
According to the Commander in Chief, these fictitious awards will be given out to media outlets that have wronged him in the past. Whether that will actually happen remains to be seen—it's more likely this is just another example of Trump arbitrarily tweeting his Monday night thoughts. That is, unless his staff actually made physical awards … you never know.
Whatever the case, Trevor Noah and his team took the announcement seriously, spinning the awards into some seriously great publicity. Leave it to The Daily Show to come up with a brilliant —and real—full page ad campaigning for the award, which was published in The New York Times.
.@realdonaldtrump, prove you're not semiliterate by reading our full-page ad in the Failing @nytimes! #InItToWinIt #TheFakies #Fakies2018 pic.twitter.com/sSVqah4rlx

— The Daily Show (@TheDailyShow) January 5, 2018
And the quotes they used as praise? Criticism from the likes of Scott Baio and Breitbart News.
Monday night's MOST DISHONEST & CORRUPT MEDIA AWARDS is going to be 🔥🔥🔥@realDonaldTrump, For Your Consideration: pic.twitter.com/6GT31qdBaL

— The Daily Show (@TheDailyShow) January 4, 2018
The Comedy Central series seems to have taken a page from Stephen Colbert's book after the Late Show host created an entire billboard around the faux awards. He even gave his pick for host of the prestigious event: Anderson Cooper.
So excited for Monday's "MOST DISHONEST & CORRUPT MEDIA AWARDS OF THE YEAR!" See you on the red carpet, @AndersonCooper! #TheFakies pic.twitter.com/r8pYCj0g9r

— Stephen Colbert (@StephenAtHome) January 4, 2018
Addressing his audience after showing off the billboard, Colbert said, "You know folks, it's awards season. Sunday is the Golden Globes—I'm not nominated, don't watch—but on Monday there's an awards show everyone's going to be glued to," in reference to Trump's tweet. He then turned to the camera and spoke to the President directly, stating, "Personally, I'm excited for your Dishonest & Corrupt Media Awards. Or, as we call them in the business, the Fakies."
And not to be left out, Full Frontal host Samantha Bee created her own category, Shrill Reporting.
Nice try @colbertlateshow and @TheDailyShow, but we're sweeping the #Dishonesties this year. (P.S. @realdonaldtrump, how about a female host next time?) pic.twitter.com/dAhE5epA4D

— Full Frontal (@FullFrontalSamB) January 4, 2018