Charlie Cox Opens up on 'Bizarre Feeling' of No Longer Playing Daredevil
David Lee/Netflix
Charlie Cox said he was surprised Daredevil was canceled after three seasons because he thought there were still more stories to tell through the Marvel drama.
"I'm very saddened by that," the actor told Entertainment Weekly.
"It's just how business works," he added. "But also, these characters mean a lot to people. It's weird to think there's a chance I won't be playing Matt Murdock ever again. That's a bizarre feeling, because that character has been such a huge part of my life for the last four and a half years."
From 'Fuller House's new season to Ellen DeGeneres' standup special.
The streaming service said last month it would not bring back the show for a fourth season.
"We are tremendously proud of the show's last and final season and although it's painful for the fans, we feel it best to close this chapter on a high note," a Netflix representative said at the time.
Show-runner Erik Oleson took to Twitter to express his disappointment with the news and gratitude to his colleagues.
"Sometimes a gig is just a paycheck. When we're lucky, it's so much more. There was something magical about working on #Daredevil Season 3. We all felt it," he tweeted.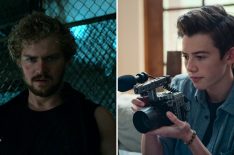 Why is Netflix getting more cutthroat? A deeper look at the streaming network.
The Daredevil announcement followed the cancellations of Marvel's Iron Fist and Luke Cage on Netflix.
By Karen Butler
Originally published in UPI Entertainment News.