William H. Macy Teases Emmy Rossum's Final 'Shameless' Episode
Cliff Lipson/SHOWTIME
Shameless star William H. Macy is sharing details about Emmy Rossum's final episode of the show.
The 68-year-old actor said in an interview with E! News published Tuesday that Rossum's character, Fiona Gallagher, will "go away" in the second half of Season 9.
"Fiona's going to go away," he said. "It was inevitable. People are going to start dropping away. I'll be the last one at the party, just lying there with my face in my porridge, weeping."
The midseason 9 finale left her character in slump.
Macy said he's "devastated" to see Rossum leave the Showtime series, although he's hopeful the actress will return at some point.
"I think she'll come back. I don't know? It'll be exciting," he said. "No, she's not going to [die]. She better not. I'll kill her."
Macy told reporters Saturday that Rossum's final episode is "so sweet." He said, however, that his character, Fiona's dad, Frank Gallagher, is "a complete [expletive]" throughout the episode.
"All the actors really wanted a great goodbye scene with Emmy," the star said, according to Vulture. "I had hoped that I could have a lovely, warm, conciliatory meeting goodbye with her."
"I'm horrible, worse than I've been in a long time. Just a waste of oxygen," he shared.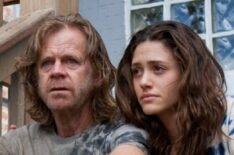 'She's made the right choice,' said the actor.
Rossum announced her impending departure from Shameless in August. The show will premiere the second half of Season 9 on Jan. 20.
By Annie Martin
Originally published in UPI Entertainment News.