Paramount Network Drops 'Heathers' Series
Paramount
Heathers (Paramount Network)
Paramount Network said it will not air the new dark comedy Heathers as planned, but is looking for a new home for it.
The violent show's debut has been postponed several times due to real-world, school shootings. It initially was set to premiere March 7, then moved to July, but now will not be seen at all on Paramount, the former Spike TV, Deadline.com said.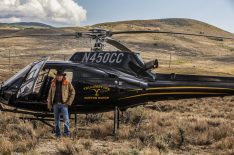 Network re-branding has its pluses and minuses.
"This is a high school show, we're blowing up the school, there are guns in the school, it's a satire and there are moments of teachers having guns. It's hitting on so many hot topics. This company can't be speaking out of both sides of its mouth, saying the youth movement is important for us and we've done all these wonderful things to support that and at the same time, we're putting on a show that we're not comfortable with," Keith Cox, the network's president, told The Hollywood Reporter. "The combination of a high school show with these very dark moments didn't feel right."
Paramount is trying to shop the series and its potential second season to another network.
Plus, could 'Lucifer' be saved?
Heathers is a contemporary remake of the 1988 film starring Winona Ryder, Christian Slater and Shannen Doherty.
The new version features Grace Victoria Cox as high school student Veronica Sawyer and James Scully as her murderous boyfriend JD. Melanie Field plays Heather Chandler, Brendan Scannell plays Heather Duke and Jasmine Mathews plays Heather McNamara -- Veronica's wicked frenemies.
By Karen Butler
Originally published in UPI Entertainment News.