Ask Matt: 'The Voice,' 'Blacklist,' 'Donuts,' 'The Brave' and More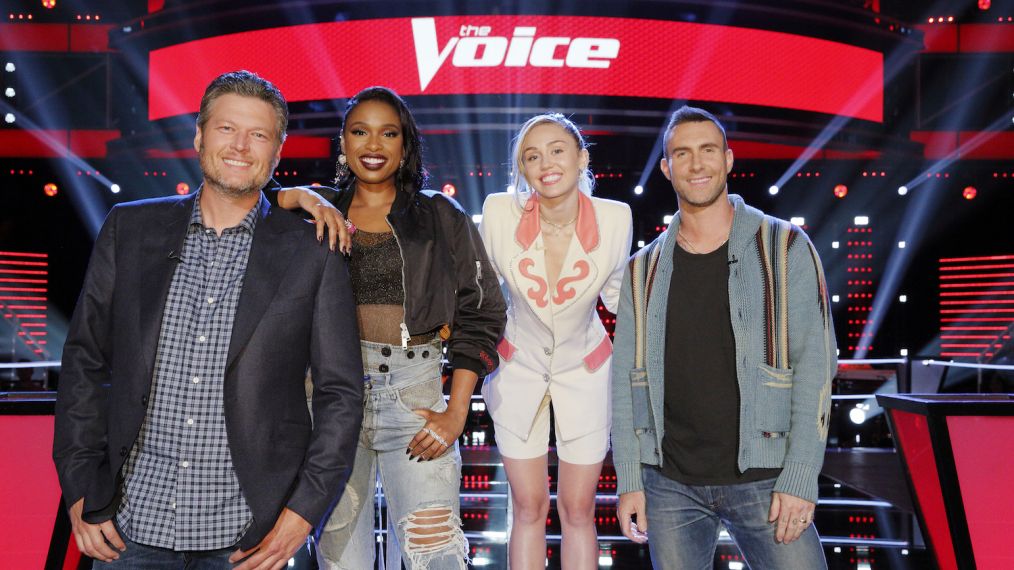 Welcome to the Q&A with TV critic (also known to some TV fans as their "TV therapist") Matt Roush, who'll try to address whatever you love, loathe, are confused or frustrated or thrilled by in today's vast TV landscape. One caution: This is a spoiler-free zone, so we won't be addressing upcoming storylines here unless it's already common knowledge. Please send your questions and comments to [email protected] (or use the form at the end of the column) and follow me on Twitter @TVGMMattRoush. Look for Ask Matt columns on most Tuesdays and Fridays.
JHud's Boots Were Made for Throwing
Question: What's with Jennifer Hudson throwing shoes or boots at the Voice contestants after they do a performance? To me, that is offensive. — Linda
Matt Roush: To her, it's a display of ultimate respect, a sign that in a matter of speaking, the singer must have knocked her socks off. The first time I ever noticed this behavior was when I was in the audience back in 2011 during a taping of Fox's So You Think You Can Dance when Lady Gaga was a guest judge, and she was so overwhelmed by the performances of (future winner) Melanie Moore and runner-up Sasha Mallory that night that she hurled her giant red boots at them (and after the taping, gifted them as keepsakes). If Jennifer's footwear actually struck and injured one of the singers, that might be cause for alarm. But otherwise, as they sing in Frozen (and probably at times on The Voice): let it go.
---
Debating the Blacklist Twist
Question: [SPOILER ALERT] What on earth were the creators of The Blacklist thinking killing off Tom, one of the major reasons (besides James Spader) to watch the show. Were they giving retribution for him going off into the failed spinoff last year? What total idiots!! — Lynn
Matt Roush: Decisions like this are not easily made, and they're clearly a calculated risk when it comes to alienating the fan base. I was interested while reading our story about this twist that Tom lived a lot longer than the producers had originally expected, and even the actor (Ryan Eggold) seems to agree that this was an appropriate time to let him go if that was in the cards. We'll see when the show returns on Jan. 3 if the fans follow. (I suspect most will, once they get over it.)
Question: I've been watching The Blacklist since the start, and it's one of my favorite shows. I love James Spader in just about anything, and he's wonderful in this show. Last week's midseason finale episode was, IMO, spectacular. Tremendous action and drama as the search for the suitcase full of bones and who they belonged to continued, and Tom's involvement and all. But my question is this. There were two sequences that used songs played over the (considerable) action, and were terrific. In the climactic sequence (which I rewound on the DVR and watched 3 times) they used a version of Simon & Garfunkel's "The Sound of Silence" which I had never heard before. It was chilling and especially effective as used, and I made a point to watch the end credits to see if they billed who the singer was. I assume it wasn't recorded specifically for this episode, and is out there somewhere. It was a rock anthem take on the song I'd never heard before. Would you happen to know who the singer was and whether that version of the song is available for purchase?
On another note, I agree with you, Matt, and the reader who talked about the disgusting darkness of American Horror Story. I also bailed on the show a few seasons back. This season (even with a warning from my daughter that I'd hate it), I DVRed the premiere, never made it to the first commercial break and turned it off. I'm done with it for good. — Michael
Matt Roush: My feeling on character deaths is that as long as they have dramatic impact, are earned within the narrative and have consequences, it's all fair game. I can't say why music credits are so rarely displayed on screen—a notable exception is this week's series version of Spike Lee's She's Gotta Have It on Netflix, which even displays the album art after many scenes. But happy to report that this version of "The Sound of Silence" was recorded by a band called Disturbed, and it is available for purchase.
And because there are as many opinions about TV as there are viewers, here's another view regarding American Horror Story:
Question: I beg to differ on American Horror Story. I like the show and realize it's not everyone's cup of tea, but on the other side that means it shouldn't be canceled. With millions watching TV, everyone has a different taste. Some of us like the weird and unusual. I also like Fargo, now let's see the backlash on that. — Donald
Matt Roush: To each their own, and just because someone writing into this column wishes something would be canceled doesn't mean it will be (in fact, usually the opposite). Weird and unusual is fine, but for me, the absurd excesses and general incoherence of most seasons of American Horror Story keep it from my watchlist. I prefer horror when it's actually scary, not just gruesome and indulgent. And let's leave a gem like Fargo out of this conversation. The third (and possibly last) season ultimately wasn't my favorite, but that show is weird and unusual in all of the right ways.
---
One Less Donut to Serve
Question: I was curious if you know the reason why Anna Baryshnikov did not return to Superior Donuts as the character Maya for the second season? — Natalie
Matt Roush: From a practical standpoint, it's known as going in a different direction. This appears to have been a mutual decision, and when Donuts brought on Diane Guerrero to play Sofia in the second season, she became a more natural female foil for the ensemble, one likely to establish more of a rapport with Jermaine Fowler's character of Franco. Given the transient nature of the donut shop's clientele, it's not like they even needed to write Maya out with an elaborate farewell. On the other hand, Anna Baryshnikov's career is going fine, and she's currently appearing on Broadway with Downton Abbey's Elizabeth McGovern in the play Time and the Conways (which I'm planning to see shortly before it closes this week). Whether Maya will ever come back for one last snack remains to be seen.
---
Is NBC the Land of The Brave?
Question: Matt, is it true that the network is planning on canceling The Brave? — Con
Matt Roush: Not yet, but the reason some may be alarmed is because the show was not picked up beyond the initial 13 episodes, so will wrap its first season in January and won't return after the Olympics. (In its place on Mondays after The Voice in March: the midseason series Good Girls, which also indicates The Brave may have been shelved because of too much inventory.) As I noted this week, Monday's winter finale of The Brave was especially strong and tense, but the show's greatest handicap was that it premiered opposite the fall's biggest surprise hit, ABC's The Good Doctor. NBC will make a call about a second season of The Brave sometime next year, though possibly not until the May upfront announcement.
---
From the Vaults
Question: I'm looking for the name of a show that was on maybe 10 or 12 years ago. An NYPD detective was blinded in the line of duty, but instead of taking medical retirement, he insisted on returning to the force. I believe it was on ABC and I seem to be the only person who remembers this show, let alone ever saw it. — Kelle
Matt Roush: I'll admit, this one took me a minute to remember—because my own memory took me back to an earlier era of TV, when as a kid I fell for a show about a blind investigator called Longstreet (James Franciscus) that lasted for a single season in 1971-72. The show you're talking about was even shorter-lived: Steven Bochco's Blind Justice in 2005, starring ER's Ron Eldard as a blind detective, intended to fill the void left by NYPD Blue. It lasted a mere 13 episodes.
From the Bench
Question: What happened to Me, Myself & I? It was such a feel-good show and a unique idea. — Shelly
Matt Roush: Maybe too unique. For CBS anyway, a network whose taste in comedy is generally much more broad than with this literal sleeper. Underperforming in the ratings on Mondays, the show was pulled after just six episodes before November sweeps kicked in, replaced by the sad mediocrity of Matt LeBlanc's Man With a Plan. The network expects to air the remaining unseen episodes somewhere down the line, and don't be surprised if they're burned off on a holiday or summer Saturday.
---
Demanding MIA Episodes
Question: I know you deal with more substance than practice, but I was hoping you could shed some light on why some shows don't make certain episodes available on demand. When I sit down to catch up with a current show and an episode is missing (i.e. 1,2,4,6 are there but not 3 & 5), it certainly puts me off watching. I can't imagine how it benefits the show and it definitely doesn't benefit the viewers. The most obvious differences would be the guest stars, writers and directors, but I don't see why they would have the power to dictate an episode's exclusion or why they'd want to. Maybe the network could let viewers know ahead of time that the episode won't be on demand so they can be sure to watch live or DVR it. Thoughts? — Woody
Matt Roush: Without knowing where you're looking for these missing episodes, I can only speculate. Every show is different in terms of its contract with On Demand and streaming services when it comes to how many episodes are allowed to stack up and for how long. I have seen some instances where the first episode (or maybe first few) of a season stay up indefinitely, perhaps as a way to lure someone into viewing the new season, and then jumps forward to the most recently aired handful of episodes. I'm not aware of random episodes just dropping out of rotation, but I suppose that's possible when the terms expire. Obviously such services should be more transparent when it comes to making clear how long an episode is available for screening, but if you're not watching a show live, it can be risky to assume all episodes will be available.
That's all for now, and we'll pick up the conversation again after the holiday weekend. Thanks as always for reading, and remember that I can't do this without your participation, so please keep sending questions and comments about TV to [email protected] or shoot me a line on Twitter (@TVGMMattRoush), and you can also submit questions via the handy form below. Happy Thanksgiving!