The Full Frontal Frontier: Is Male Nudity TV's Latest Trend?
Viewers of at least two premium cable dramas recently experienced a nude awakening: Male characters on both HBO's The Leftovers and Showtime's The Affair have exposed their genitalia on camera this fall.
Why so shocking? Although nudity has long been a part of pay TV (remember when Cinemax was jokingly referred to as "Skinemax"?), most of the disrobing continues to be done by women. Male nudity, in comparison, remains a rarity on screen (including in film).
But that gender imbalance has already begun to shift. The Affair's October 4 season opener showed Helen (Maura Tierney) in bed with her estranged husband's best friend, Max (Josh Stamberg). When Max stood up, his manhood was on full display. Then, on the October 18 episode of The Leftovers, Tommy (Chris Zylka) was exposed after being assaulted by Meg (Liv Tyler). The Leftovers did it again on Nov. 1 as Christopher Eccleston (Matt) also went full frontal.
Starz is also a part of this brave nude world, thanks to Outlander and the new ballet series Flesh and Bone.
"I think it is simply a matter of fairness," says one network executive. "I've been advocating for it with our producers to do it for a long time. It's weird to have shows featuring female genitalia and not male genitalia."
Sure, Starz's Spartacus, Showtime's Shameless and HBO's Oz, Game of Thrones and Rome have all featured full-frontal shots in recent years. But those shows were (or still are) brash and in-your-face, so somehow the nudity isn't so shocking. The more recent nudity on The Leftovers and The Affair seems jarring because those series are considered much more quiet.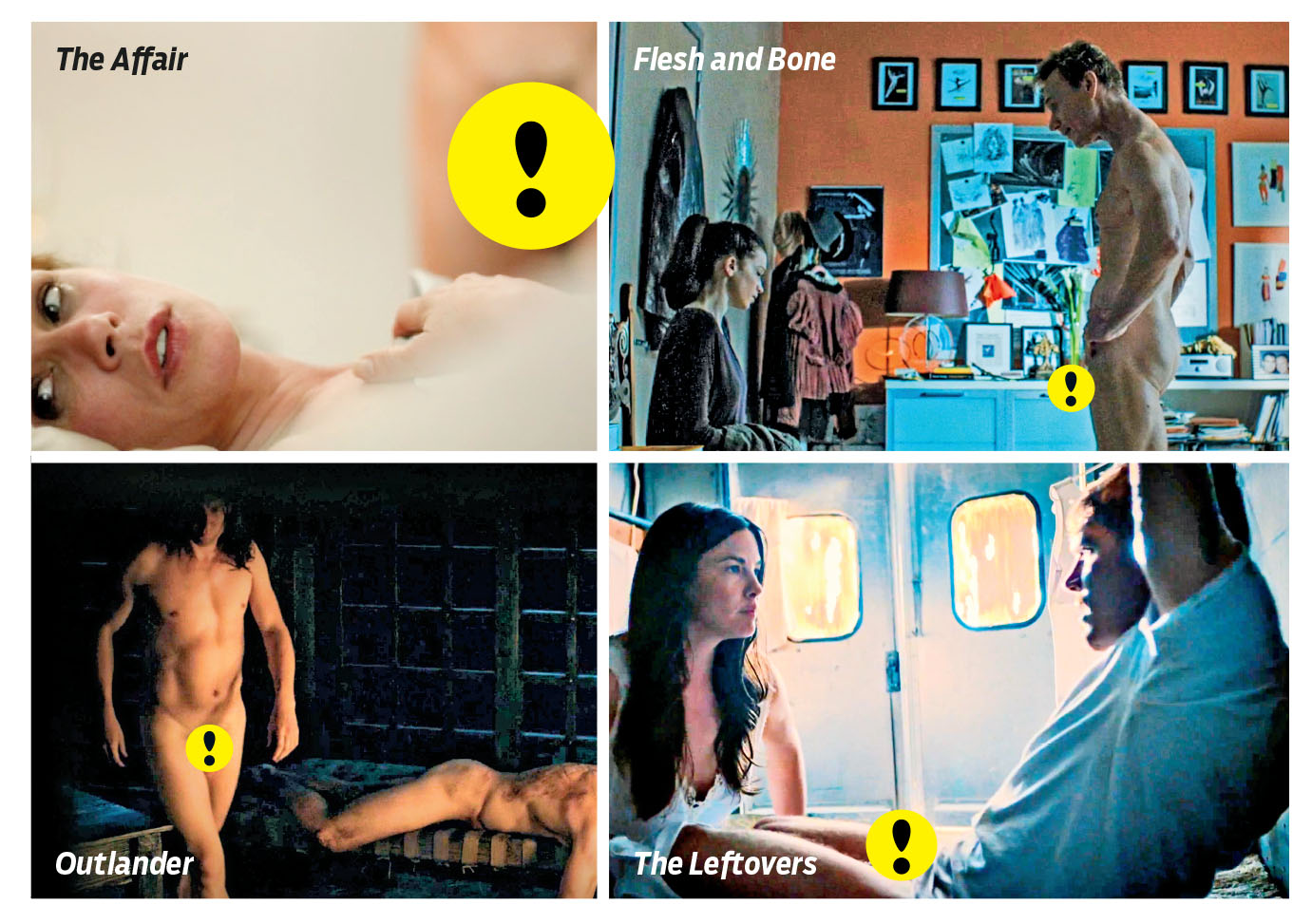 Tierney told E! News that the full-frontal nudity on The Affair "wasn't in the script," but that executive producer Jeff Reiner "really wanted there to be full-frontal nudity. He fought for it, more than [executive producer] Sarah Treem."
The evolution of nudity on cable extends beyond frontal shots. The Affair also reverses the traditional gender roles when it comes to showcasing sex scenes between Noah (Dominic West) and Alison (Ruth Wilson). In some scenes, West is completely nude, while Wilson is wearing clothes.
"I think we're training an audience to look at it through even-handed eyes," the exec adds. "Everyone is programmed to want female body parts but not male when it comes to nudity. But life is messy, unbalanced. Sometimes one person is more freer than another person. I like all the realism of that."
All of this comes as broadcast TV steers clear of most overt nudity. Although the networks relaxed some standards in the 1980s and 1990s (including envelope-bending episodes of NYPD Blue, which caused several affiliates to drop the show initially), the aftermath from 2004's Super Bowl halftime show (which featured an accidental split-second shot of Janet Jackson's nipple) has mostly scared broadcasters away.
Says a cable exec, "It's not about pushing boundaries or shock value [for these shows]. We try to do things with authenticity, and there is nudity in our lives."