Jim Parsons, 'Big Bang Theory' Cast Top Forbes List of Highest Paid TV Actors
Michael Yarish/Warner Bros.
Jim Parsons in CBS's
Jim Parsons has taken the number one spot atop Forbes annual highest paid TV actors list ahead of his Big Bang Theory co-stars Johnny Galecki, Simon Helberg and Kunal Nayyar.
The list, released Thursday, states that Parsons earned $27.5 million in the year leading up to June 1.
Parsons, who makes $1 million per episode of The Big Bang Theory along with the other principal stars, came out on top due to his endorsement deal with Intel, role in Oscar-nominated film Hidden Figures and time on Sirius radio.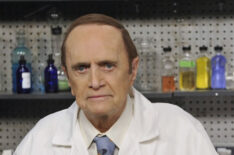 The television icon is coming back, but there's another familiar return in the same episode. Details here!
Parsons previously came in at No. 1 in 2016 having earned $25.5 million.
The Big Bang Theory's cast dominates the rest of the top four with Galecki in second place with $26.5 million, Helberg in third with $26 million and Nayyar in fourth with $25 million.
Following NCIS star and executive producer Mark Harmon's placement at No. 5 with $19 million, the cast of Modern Family nearly round out the rest of the Top 10 with Ty Burrell in sixth place with $13.5 million, Eric Stonestreet in seventh place with $12.5 million, Ed O'Neill in eighth place with $12 million and Jesse Tyler Ferguson in tenth place with $11 million.
For the sixth year in a row, Sofia Vergara has taken the number one spot atop Forbes annual highest paid TV actresses list ahead of Kaley Cuoco. The lis...
In eight place, breaking up the string of Modern Family actors, is Kevin Spacey who stars in and executive produces Netflix's House of Cards with $12 million.
On Tuesday, Modern Family star Sofia Vergara was announced as the highest paid TV actress with $41.5 million making Vergara the highest earning television star amongst men and women.
By Wade Sheridan
Originally published in UPI Entertainment News.