Ask Matt: 'Game of Thrones' Triumph, Reboots ('Will & Grace,' 'Roseanne'), Cable Burn-offs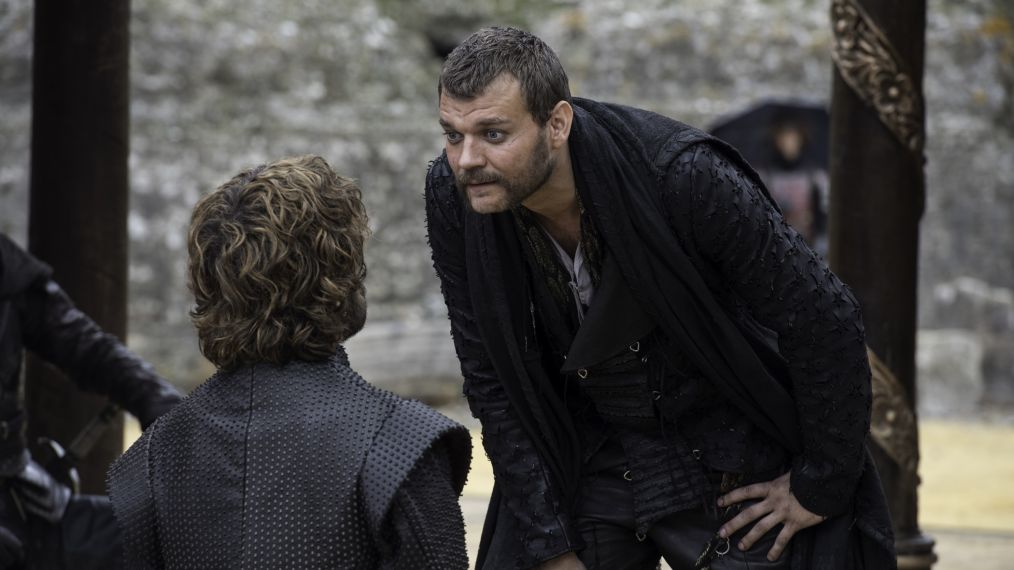 Welcome to the Q&A with TV critic (also known to some TV fans as their "TV therapist") Matt Roush, who'll address whatever you love, loathe, are confused or frustrated or thrilled by in today's vast TV landscape. One caution: This is a spoiler-free zone, so we won't be addressing upcoming storylines here unless it's already common knowledge. Please send your questions and comments to [email protected] (or use the form at the end of the column) and follow me on Twitter @TVGMMattRoush. Look for Ask Matt columns on most Tuesdays and Fridays.
Can Anything Top Game of Thrones' 7th Season?
Question: I know it's ridiculously early to bring this up, because we're not even past this year's Emmys yet, and we don't know what might surprise us between now and next May, but can you imagine anything stopping Game of Thrones from taking the Best Drama Emmy, and just about every other prize, in 2018 after the season that just ended? I know there has been nitpicking about how long it takes ravens and dragons to get from Point A to B, among other issues. And some seem to think the show moved too fast this year, as opposed to having stalled in past seasons. What were your thoughts on this dragon-tastic penultimate season? — Andy B
Matt Roush: I was blown away by this season, which represents to me everything Game of Thrones is meant to be: epic on a scale heretofore unseen or maybe even attempted on TV, with one dramatic payoff after another, involving characters who had been kept apart on separate parts of the sprawling map for way too long. The irony is that HBO's Thrones became a better show once it was unshackled from the books, which fatally stalled in the last two volumes. I loved the early seasons, which faithfully enacted the major events from the excellent first three books in the Song of Ice and Fire series. But this season in particular delivered on so many fronts—action (dragons!) and emotion (the Stark sisters giving Littlefinger his comeuppance)—and I have to think anyone who wanted to be satisfied would be. Nothing this mammoth is perfect, and I could take issue with some individual scenes. Still, given that Thrones won the top drama Emmy two years in a row for lesser seasons, it's got to be seen as a front-runner for next year. The only handicap is that the episodes will have aired so long ago by next year's show. But these will be hard episodes to forget.
---
Reboots Are Nothing New
Question: I'm just wondering what your feelings are about reboots of shows like Roseanne and Will & Grace. Does this mean that original ideas are in short supply? I don't have anything against either one of the shows I mentioned. I'm just curious when the next Fringe or Person of Interest (both pretty original concepts, if you ask me) will appear, if ever, on a non-Netflix-type "traditional" broadcast network. — Gwen
Matt Roush: It's not that no one's coming up with original ideas, more like the networks are so desperate to break through the clutter they're reaching into their past for titles—and in these cases, original casts—that might still resonate with viewers. That said, nothing this fall looks to be as risky or exciting as the high-concept shows you call out. (I especially miss Person of Interest.) Once again, they're playing it mostly safe, including a new armada of military dramas that sound alike, and even though a few of them are solid, I wouldn't call them inspired.
Back to the revivals—a better word for these particular shows than "reboots," which is more appropriate for revisionist remakes like Dynasty or S.W.A.T. (and really does make you wonder if the networks have run out of ideas). I am excited by the return of Will & Grace, the way I would be if a classic Broadway revival was mounted with original stars. Judging by their YouTube comeback last fall, they've lost little of their juice, and their comedy feels both timely and timeless to me. I'm not as confident that Roseanne can recapture its magic, given how that final season squandered so much goodwill. Even ignoring how they left things, as I'm sure the new/old show will do, revisiting family comedies a generation later can often just feel awkward.
---
Burned By Burnoffs
Question: I am writing to discuss cable channels' latest great idea of burning off episodes of series that I presume will be canceled or that they no longer believe people have an interest in, and by this I list three examples: TNT's Will, USA's Playing House and CMT's Still the King. Will is currently being blown off at an 11 pm/10c time slot while Playing House only ran for four weeks, on a FRIDAY NIGHT time slot yet, and in the most in-your-face disregard for fans, the final four episodes of Still the King were blown off on a Wednesday morning at 1 a.m. with no repeated times. How is this fair to people who watch these shows and wonder where they went? It is not as if Still the King was replaced with a fantastic new series, but merely an old movie. Granted most networks offer them On Demand, but how are you to know if there were more episodes available when they are not advertised?
Finally, is there any hope for more episodes of The Gong Show, which I totally enjoy but notice it does not crack TV Guide's Top 25 as other game shows and reality shows do. — JV
Matt Roush: Wow, I hadn't even realized Will had been pushed out of prime time. (TNT made the episodes available to critics for pre-screening, and didn't announce the switch, or I missed it.) You're right to interpret this as a sign the show isn't likely to return, at least not on TNT. With Playing House, however, that late-night bundling was intentional, with the network figuring that much of its viewing would be done digitally, a strategy they heavily promoted. (And a renewal here would also be something of a miracle, but who knows.) The King burn-off is an extreme example, but at least the episodes appear to be available for dedicated fans to watch online or On Demand. All of which boils down to the reality that some marginally rated cable series are subject to the same programming whims as the shows on the broadcast networks. More than ever, viewers need to do a little homework, or at least keep up with the on-screen listings (which tend to be most up-to-date), when these things occur. Is it fair? Perhaps not, but in pre-digital days, these shows would probably have vanished without any opportunity to watch to the end.
About The Gong Show: Can't say. I wouldn't think the bar was all that high one way or another, but if the talents involved want to keep it going, ABC seems devoted to this brand of summer cheese and I don't see why it wouldn't come back.
---
WTF, USA?
Question: I wanted to get your thoughts on the recent adoption of USA Network allowing the F-bomb in their shows (Suits and The Sinner, for example). For years, Suits had frequent curse words but never went to the next level and said "f***." I am no prude and have no problem with the language. I am just curious if this is simply a sign of the times and basic cable is attempting to make themselves more on par with the premium cable shows. — Corey
Matt Roush: I haven't seen and wasn't aware of these scenes, so am not sure if the actual word was heard or, as has happened before most notably on USA's Mr. Robot and shows on FX and AMC, the word is spoken but not actually heard (the soundtrack goes mute, yet the point is made). If they're hurling actual F-bombs on basic cable without alteration, that would be new. But on a more general level, it's a fact that certain basic cable shows are pushing the content envelope more aggressively, and it's especially noticeable on USA in its move away from "blue-sky" escapism to edgier, darker shows meant to compete with the aforementioned networks as well as pay cable. (I got a flurry of mail recently from Suits watchers who seemed surprised at the salty and irreverent language, but that's been a part of the show from the beginning, as this was a transitional series that began to mark USA's move into more "adult" fare.)

---
Separating King's Fiction From Current Events
Question: For what it's worth, I was very surprised to read Gigi's comments "When Fictional Terror Becomes All Too Real" about Mr. Mercedes. The thought of tying a Stephen King story to real life? Perhaps it is because I've been a Stephen King fan for decades (he hooked me when I read Salem's Lot). Unfortunately, I have felt that King's early works were his best, so I was very happy that I enjoyed his Mr. Mercedes trilogy. I was thrilled when I saw it was being made and presented through DirecTV (my provider). Gigi, it's fiction! What is emotional and moving is when you watch factual presentations such as Hacksaw Ridge, The Zookeepers Wife, American Sniper. Stephen King writes FICTION. Cars don't drive themselves, hotels aren't alive, pets don't come back to life. Quit trying to get good programming removed. – Unsigned
Matt Roush: Respectfully, I think you missed the point of Gigi's remarks. Fiction often hits close to home, and when tragic real-life events (including recent acts of automotive terrorism) echo what's happening in supposedly escapist TV, there have been many instances when networks (especially on broadcast TV) either postpone episodes or at least provide advisories acknowledging the sensitivities of the audience to such material. Of course everyone knows Stephen King's reputation for providing thrills through fiction, and Mr. Mercedes is one of his best recent works, as I noted in my own review. But stories like this can provide just as visceral a kick as movies based on fact, and there's no shame or harm in acknowledging that.

That's all for now, and we'll pick up the conversation again soon. Thanks as always for reading, and remember that I can't do this without your participation, so please keep sending questions and comments about TV to [email protected] or shoot me a line on Twitter (@TVGMMattRoush), and you can also submit questions via the handy form below.