I Co-Wrote the 'Power' Season 4 Finale; Get Ready for Tears and Hugs, Murder and Drugs
Courtesy of Monica Mitchell
Our crew filled the waterfront in Battery Park at a location Courtney Kemp (Power executive producer, showrunner and co-writer of the Season 4 finale) and I scripted simply as "interesting meeting place," trusting our locations department would come through with a gem. And they had.
It was our first week of shooting the Power season finale–my first filmed episode of television as a writer – and I gazed across the Hudson at the lights of Jersey City, the Statue of Liberty aglow to my left, awed by the scene unfolding before me. Months prior, alone in my office in Los Angeles, I wrote a fake conversation between fake people and now 200+ human beings were being paid real money to scurry around Manhattan at 10 o'clock on a Friday evening to bring it to life. This, in a nutshell, is the strange and magical experience of being a TV writer. And it's one that, before last year, I was starting to wonder if I'd ever have.
As a kid growing up in suburban Cleveland, attending Catholic school and watching episodes of Friends on a loop, Hollywood was not a place that seemed reachable or even real to me. So when I heard the siren call of television in my final semester of college, I took the only path I understood: graduate school.
Tens of thousands of dollars in student loans later, I moved to Los Angeles for an internship on the CBS series Medium armed with a single piece of advice: to ask everyone I met how they got where they are. The answers varied wildly, but more often than not were stories of unexpected twists and almost accidental opportunities that ended with the same refrain.
"I graduated with an English degree but one of my professors thought I'd be great at TV so he got me a writers' assistant gig. But it never happens that way."
"I got bored while I was visiting my aunt for the summer so she landed me a job answering phones on her friend's new TV show…The West Wing. But it never happens that way."
"I wrote a spec (sample) script of a show and then moved out to LA and got staffed ON THAT SAME SHOW."
It should be noted that it LITERALLY never happens that way. Except for this one person, who happens to be the aforementioned Courtney Kemp.
After years of climbing the assistant ranks on shows including Medium and Parenthood, my unexpected twist came when I met Courtney entirely outside the professional realm, through friends. Every writer hoping to make it in Hollywood needs a lucky break or a fairy godmother and Courtney was mine. She is wildly talented and even more generous. And, for reasons I still don't totally understand but that I certainly appreciate, she took an interest in me and my career. Two years after hiring me as the script coordinator on Power–nearly 11 years after I'd moved to LA–she promoted me to the writing staff.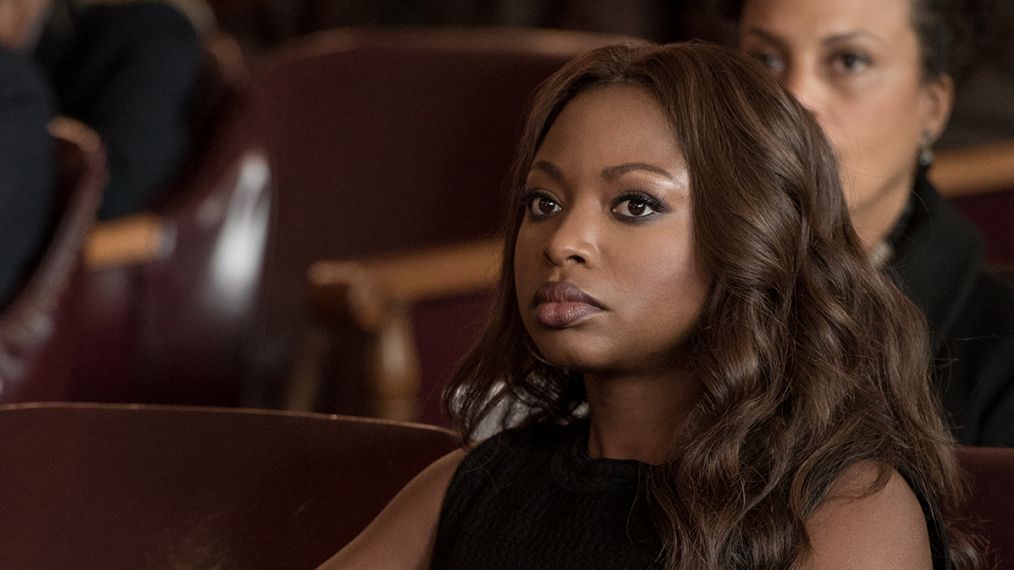 Are you also Team Tasha?
During all the years I spent fetching lunches and proofing scripts within earshot of various writers' room, the only thing I wanted was to be on the other side of those doors, and when those doors finally opened to me at Power, I couldn't have received a better welcome. Our writing staff is merciless and undiscriminating in their jokes and pranks, but they are also supportive and collaborative in a way that defies all Hollywood stereotypes. Everyone participates, including the assistants, and the worst ideas are applauded and hung on our "beam of misfit pitches," where they are revered for the rest of the year.
From May to November of 2016, when we weren't pitching things you'll never see on the show like "Ghost gets a dragon" or "Kanan disguises himself as a UPS driver," we broke stories for Season 4, argued about the most surprising yet inevitable fates of our characters, and ate Trader Joe's popcorn until the writers' room smelled like a movie theater.
Before landing at Power I, admittedly, had my doubts about writing a crime drama. In fact, my diehard preference for seeing characters talk about their feelings over say, watching them blow stuff up, earned me the nickname "Tears and Hugs" in the room. But as Courtney and I surveyed what threads were left to tie up in episode 410, I felt like I'd been handed the finale on a silver platter. Somehow, we had crafted a story that perfectly overlapped tears and hugs with murder and drugs.
Courtney and I split the script in half to write, and in no surprise to anyone, I ended up with the majority of scenes featuring tears and/or hugs.
By early February I was on a flight to NYC for prep and production and, fun fact, all the anxiety I could've felt about being a first-time writer on set was channeled into an irrational fear of being cold. Which brings us back to Battery Park on that Friday in February.
Unbelievably, the weather in New York had reached into the 60s our first week of filming, but just after 10pm, the temperature dropped drastically. We bundled up–director Rob Hardy turned on his electric jacket that I openly coveted–and braced for a brutal night.
But then, maybe 10 minutes later, the winds suddenly changed. A murmur rolled across set as the temperature unexpectedly jumped back up and the crew hustled to get the remaining shots before our luck turned. We wrapped with the weather still on our side that night and the rest of the shoot went off better than I could've dreamed.
The crew amazed me every day with their relentless dedication, kindness, and humor. Rob's precision and creativity captured more beautiful shots than we had any right to, given the schedule.
Our cast gave some of their most powerful performances yet. Naturi Naughton (Tasha St. Patrick) ascended to another level. I got a tour of New York from Brooklyn to the Bronx, based on locations I'd made up entirely in my head. And Omari Hardwick (James "Ghost" St. Patrick) brought me flowers on our last day of shooting.
Back in LA a couple weeks later, Courtney texted when she finished watching the director's cut. "Oh my God, Monica, the episode is so good." I emailed Rob Hardy to thank him again and he ended his response with #TearsandHugs.
I truly hope you like the Power Season 4 finale. Coming off the dramatic end of penultimate episode of the season that impacts all our characters, it's a unique episode of Power that tells a single story over the course of 24 hours. From start to finish, I had the best experience with it and I'm incredibly proud of what we made–murder, drugs, tears, hugs and all.
But it never happens that way.