Rectify: First Look at Scenes From Season 3 (PHOTOS)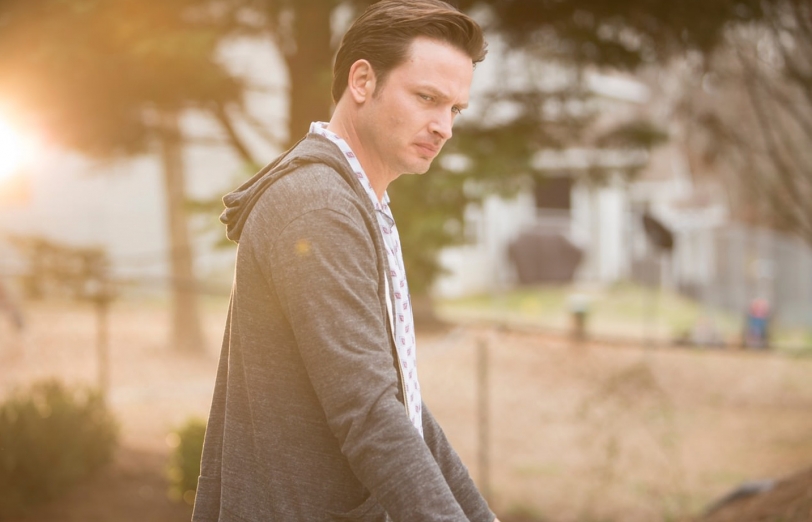 Daniel McFadden/Sundance
For those who haven't yet seen any of SundanceTV's Rectify, get thee to Netflix, where both previous seasons are streaming. (SundanceTV will also be having a Rectify marathon beginning July 4 at 2/1c.) The gorgeously slow-paced series begins with the freeing of Daniel Holden (Aden Young) from death row after 20 years, thanks to new DNA evidence in his case, the rape and murder of a 16-year-old girl. But law enforcement is sure they had the right guy anyway, and Season 2 ended with Daniel's decision to give the prosecutors what had been taken from them: a conviction for the murder of Hanna Dean. In exchange, Daniel received the promise of no more jail time, but was also banished from the state of Georgia, and had to confess once more to the murder, taking the prosecution team—past and present—through the night of the crime.
Rectify returns July 9 at 10/9c, and Season 3 will begin as Daniel prepares to leave the only home he's ever known. Now that he's confessed again to the crime, his family is split over what support he deserves. Here, get a sneak peek at what's ahead in our exclusive images from the new season and watch the latest trailer.
Daniel's plea deal requires him to leave Georgia within 30 days. How he spends those 30 days, though, is up to him. Why not give cooking a shot?
Daniel's lawyer Jon Stern (Luke Kirby) and sister Amantha (Abigail Spencer) have always felt their relationship is living on borrowed time. It began with her trying to convince Jon to take Daniel's case—or maybe it was Jon trying to convince Amantha he was the right lawyer for the case, it's a bit of a blur for both of them. Now that Daniel has decided what he wants from his life—no more trouble with the law, regardless of whether that means he'll carry a murder conviction—it's time for Amantha to decide what she wants from hers. Her choices appear to be Jon or a manager position at Thrifty Town.
Half-brother Jared (Jake Austin Walker) is the most innocent party in all of this, and he is not coping well with the idea of Daniel actually being a murderer. Being a teenage boy is hard enough without having to deal with that. Luckily, sort-of-not-really girlfriend Claire (Abigale Corrigan) is there to help.
Step-sister-in-law Tawney (Adelaide Clemens) formed an immediate spiritual connection with Daniel that blossomed into something like an emotional affair. The dissolution of that connection, coupled with Tawney's miscarriage toward the end of last season (husband Ted Jr. was the father), have set Tawney adrift, staying with friends while she attempts to put the pieces of her life back together.
Step-brother Ted Jr. (Clayne Crawford) is, understandably, still angry about Daniel's humiliating physical attack on him from the first season, and now that Daniel has told Tawney what he's done, Teddy has changed his mind about pressing charges with Sheriff Daggett (J.D. Evermore).
How's this for a slow burn: George, the corpse we see, shot himself in the head at the end of the very first episode of the season. His body is only just being found now, in Season 3. (In the cops' defense, only six or seven weeks have passed since Daniel was released from prison.) George was also one of the primary witnesses in Daniel's original case, which greatly interests Sheriff Daggett and DA Sondra Person (Sharon Conley), who engineered Daniel's plea deal.
Rectify, Returns July 9, 10/9c, SundanceTV