'Total Bellas' Season 2 to Premiere in September, 'Total Divas' Cast Announced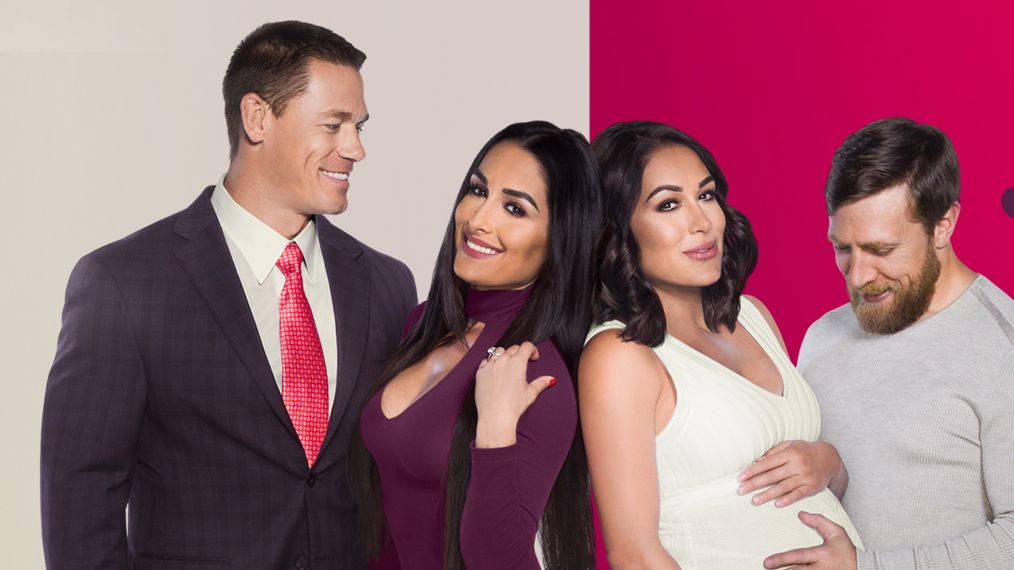 E!
Pictured: (l-r) John Cena, Nikki Bella, Brie Bella, Daniel Bryan
Total Bellas Season 2 is set to premiere on Sept. 6 on E! the network has announced along with which WWE Superstars will be joining Season 7 of Total Divas.
Total Bellas, which focuses on the lives of twins Nikki and Brie Bella along with their significant others John Cena and Daniel Bryan, will return with eight one-hour episodes for a second season that will explore Brie's recent pregnancy and Nikki's engagement to Cena at WrestleMania.
'WWE and Total Divas is also empowering women,' the WWE Superstar tells us.
"The Bellas' bond, though put to the test, grows stronger than ever," WWE said of the new season. "The sisters go head-to-head with an exhilarating pregnancy and an emotional road to a long-awaited proposal as they step into the next chapter of their ever-changing lives."
"When you're a Bella, it's all about being a superstar," Nikki says in a teaser video for Season 2. "It's all about being a mom," adds Brie.
The Bella Twins will also be featured this fall on Season 7 of Total Divas which has new cast members such as current Raw Women's Champion Alexa Bliss, Ms. Money in the Bank Carmella and Nia Jax. The rest of the women featured will include previous series stars Natalya, current Smackdown Women's Champion Naomi, Maryse and Lana.
Brie alongside Bryan discussed the Total Bellas premiere date on her YouTube channel and shared how the new season will follow the married couple as they head into the delivery room together. According to the 33-year-old, the new season of Total Divas will feature her daughter Birdie on camera whom she believes will steal the show.
By Wade Sheridan
Originally published in UPI Entertainment News.