Game of Thrones Is the Show Every Star Wants to Be On (VIDEO)
https://player.waywire.com/?id=SVDWSN0CZ4BQV5F3
When we ask the stars about their favorite shows, or the series on which they'd most like to have a guest role, we hear the same thing over and over: Game of Thrones!
"It's an abusive relationship. It beats me up every week and I still come back for more," says Agents of S.H.I.E.L.D.'s Adrianne Palicki.
On a series where characters get axed (sometimes literally) all the time, none of our interviewees knew for sure who'd be the next to die. "There's gonna be no one left! Just Emilia Clarke with a dragon," muses Downton Abbey's Michelle Dockery.
Here, some of the show's celebrity fans share their love for the HBO fantasy series. Find out who's angling to play Rhaegar Targaryen, which weapon Viola Davis would want to wield, and witness Matthew Perry confess that he's never seen it at all. (Seriously, Chandler?!)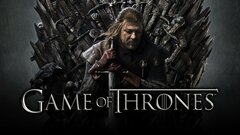 Powered by