'SNL:' Dwayne Johnson and Tom Hanks Team up for 2020 presidential race
Will Heath/NBC
Dwayne Johnson and Tom Hanks on the 42nd season finale of Saturday Night Live
May 21 (UPI) -- Dwayne Johnson hosted the Season 42 finale of Saturday Night Live this weekend and doubled down on his recent comments about running for U.S. president in 2020.
Johnson even declared Tom Hanks his running mate when the two-time Oscar winner appeared on the SNL stage after Alec Baldwin presented Johnson with his special, 5 Timers Club smoking jacket.
Baldwin and Hanks are also members of the exclusive group of celebrities who have hosted the show five times or more.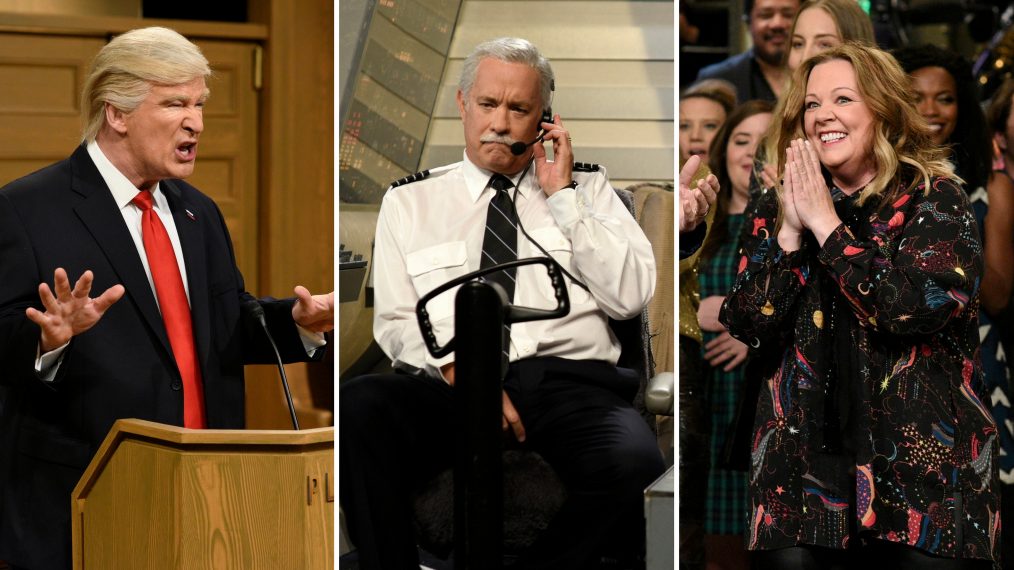 See who joins Melissa McCarthy on this prestigious list.
After suggesting Baldwin doesn't have the temperament to work in their potential White House Cabinet and sending him off to break up a conversation between his wife Hilaria and SNL boss Lorne Michaels, Johnson and Hanks began campaigning.
"In the past, I never would have considered running for president. I didn't think I was qualified at all, but now, I'm actually worried that I'm too qualified," Johnson joked.
"The truth is, America needs us," Hanks said. "No one can seem to agree on anything anymore except for two things ... "
"Pizza and us," Johnson chimed in.
"I have been in two movies where a plane crashes and people are still excited to see me on their flight," Hanks boasted.
"True story," Johnson agreed. "And I, one time, ran a red light and the traffic-cam footage alone made a $1 billion."
"Dwayne, together, we would get 100 percent of the vote," Hanks said. "I would get the senior vote because I fought in World War II in, like, 10 different movies."
"And I, of course, would get the minority vote because everyone just assumes that I am, well, whatever they are," Johnson laughed.
The pair then demonstrated what they could offer the people of America -- Hanks by giving a rousing, patriotic speech, and Johnson by explaining how he would single-handedly save the state of California in a natural disaster.
The actors started wrapping up the bit by saying they were just kidding about a run for the White House.
"When it comes to politics, we need more poise and less noise," Johnson said in a more serious tone. "Americans deserve strong, capable leaders. Leaders who care about this country and care about its people."
"Dwayne, that kind of sounds like you and me," Hanks laughed. "I guess we gotta do it."
A banner saying "Johnson/Hanks 2020" then fell from the ceiling. as the actors yelled, "We're doing it!"
Johnson
Hanks
2020#SNLFinale pic.twitter.com/TNdoWLTNrt

— Saturday Night Live (@nbcsnl) May 21, 2017
By Karen Butler
Originally published in UPI Entertainment News.