AMC Mulled Mad Men a Spinoff with Sally Draper or Peggy Olson AMC mulled a Mad Men spinoff with Sally Draper or Peggy Olson
According to The Hollywood Reporter's Mad Men oral history, AMC considered a spinoff featuring a grown-up Sally Draper "Sally was the one character young enough that you could see her 30 or 40 years later," says Lionsgate TV C.O.O. Sandra Stern. She adds: "There was a time we wanted a Peggy spin­-off, too, a la Better Call Saul, a minor character going off to L.A." PLUS: John Slattery was ticked off he didn't land the Don Draper role.
CBS renews Mom and Mike & Molly
The pickups for a respective 3rd and 6th seasons means all of Chuck Lorre's three CBS series will be back next season.
Kickstarter launched for a 1-night-only Smash musical
The Actors Fund has launched a Kickstarter to cover the costs of a one-night-only performance of Bombshell from the NBC series.
Scandal casts True Blood alum as Mellie's sister
Lauren Bowles is set to play sister Harmony in one episode.
Jim Parsons gets a Hollywood Walk of Fame star
Parsons' Big Bang Theory castmates were in attendance for this morning's ceremony, including Kaley Cuoco, who already has a star.
Christina Milian joins John Stamos' Grandpa comedy
She'll play the mother of the grandson of the ABC comedy pilot.
Bradley Cooper spent just 1 day filming his Netflix Wet Hot American Summer scenes
Cooper's Academy Award nomination allowed him to head to the West Coast to film all his scenes on Feb. 26, the last day of the show's production.
Check out the Game of Thrones Sand Snakes
Presenting the daughters of Prince Oberyn Martell. PLUS: Does this fan theory explain a Season 5 casting omission?, and GoT gets mashed up with The Princess Bride.
Kathy Griffin on Giuliana Rancic's Fashion Police Zendaya joke: "Some dude wrote it for her"
"Don't have anyone write you jokes or even suggest jokes for you on Fashion Police," Griffin says, adding that Rancic has "enough great insider gossip from actually being on the red carpet. That's what fans want to hear the next day. Just talk and be yourself."
CW announces season finale dates
CW's primetime shows will say goodbye for the summer between May 11 and May 20.
Will Ferrell will play every baseball position for an HBO special
He'll wear 10 different uniforms for the stunt, which he's doing for charity.
Watch Steve Carell and Stephen Colbert's 1994 Fabio sketch
One provided the body, the other provided the voice on stage at Second City.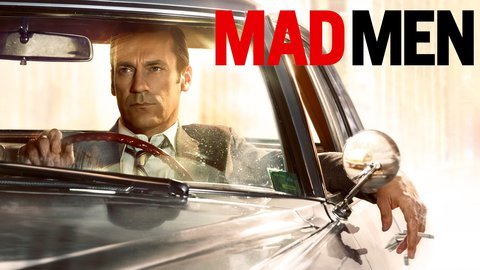 Mad Men
where to stream
Powered by