Arrow and The Flash Superhero Spinoff in the Works at CW Arrow and The Flash superhero "team-up" spinoff in the works at CW
Brandon Routh, Victor Garber, Wentworth Miller and Caity Lotz are set to star in what is being described as a "superhero team-up show."
American Idol lands Aretha Franklin as a mentor
The R-E-S-P-E-C-T legend will mentor this season's Top 16.
Kanye West apologizes to Beck for almost interrupting him at Grammys
West also used Twitter to apologize to Bruno Mars for calling him out at the 2013 MTV VMAs.
Riley Keough, Elvis Presley's granddaughter, will star in Starz's The Girlfriend Experience
She'll take on the role made famous by porn star Sasha Grey in the remake of Steven Soderbergh's 2009 film.
Larry David submits to a 60 Minutes profile
The Curb Your Enthusiasm star talks to Charlie Rose on Sunday's edition about his shyness. "I still … to this day, I still couldn't walk up to a woman at a bar and say hello… I don't have that," he says.
Community's Danny Pudi to star in an NBC Strange Calls pilot
He'll play an ex-Seattle cop who is transferred to a small town that gets strange, supernatural police calls.
Fox to test out a Boris Kodjoe & Nicole Ari Parker talk show
Lifestyle talk show The Boris And Nicole Show will feature the real-life Hollywood couple, who met on Showtime's "Soul Food." Fox will try out their talk show on several Fox-owned stations for a few weeks this summer.
Supergirl adds Chyler Leigh and Homeland's David Harewood
She'll play Kara Zor-El's sister, while he'll play supervillain Hank Henshaw. OTHER CASTINGS: Joan Allen and Alison Pill join the same ABC drama pilot, Meagan Good joins Fox's Minority Report.
Glee bringing back Jonathan Groff for the series finale
Details of Jesse St. James' return is being kept under wraps. PLUS: Mark Salling brought home a Cory Monteith souvenir from the set.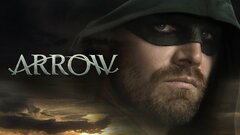 Arrow
where to stream
Powered by