Will Whoopi Goldberg Get Political When 'The View' Hits Disney World? Don't Bet on It
ABC's The View heads to Walt Disney World March 6 for a week of live shows—and you'll get no complaints from Whoopi Goldberg!
You turn into an 8-year-old at the mere mention of the Disney parks. What's that about?
Every Sunday growing up, my brother and I watched The Wonderful World of Disney. We were insane Disney fans and it was our dream to go to Disneyland in California, but because we lived on the East Coast my mom would always say, "One day. One day." Well, it took until the early 1980s, but finally I was able to take them and we ran amok. The Enchanted Tiki Room, the Country Bear Jamboree, Tom Sawyer Island, we did it all. My mom was so happy she was weeping! It's one of my happiest memories. [Laughs] Well, except for the end of the Jungle Cruise ride. I was, like, "Uhh…I really don't think Africans put people in pots and cook 'em anymore. This is gonna have to change." But I do love it. My great granddaughter got to celebrate her third birthday at Disneyland. It continues to be a big thing for my family.
Going to theme parks is all about leaving reality behind. What'll that do to The View's Hot Topics? How political can you get with Mickey Mouse standing nearby?
We'll have kids in the audience, so the situation doesn't lend itself to the kind of fiery discussions we usually have. But, hey, we need a break from that too! We've all been under the gun for so long, it'll be good to escape. Besides, it'll all be waiting for us when we get back to New York. Now if something comes up we can't ignore—like, say, someone gets impeached—we're going for it.
You get pretty passionate about the issues. Is having this public forum good therapy?
I don't know if it's actually good for me. It sure keeps me from getting certain [product] endorsements. When you do a show like The View, half the country hates you. [There are sponsors] who don't want that hassle. So it does hinder me in some ways but, by the same token, it allows me to voice what I feel are pretty reasonable ideas. We all agree that we don't want to see a stifling of the media, or people afraid to express an opinion for fear of reprisal. Maybe I'm wrong but I don't think anybody in our country really wants that. And, if they do, may I suggest they move to Russia where that's normal? We are a country that allows dissent. It's the greatest Amendment ever.
See Also
She's anti-Clinton and anti-Trump. So, theoretically, The View's new cohost Jedediah Bila should be pissing off pretty much everyone with her barbed commentary on the race for the White House. But she's not. In fact, this former Fox News contributor and card-carrying Libertarian is onTV Video Clips, Previews and Interviews
The studio audience at The View seems to be 100 percent liberal, which is odd. We never hear anyone booing. Are there ever any objections to what gets said?
Sometimes there are. We have a very weird mix. But the things that most shock the s—t out of everybody are things that make even the Trump supporters go, "Whaaat?" Because we're living in very strange times and most people don't know what's happening. Sometimes they're hearing it [for the first time] on The View.
You're among the stars of ABC's gay liberation mini When We Rise. As one of the earliest AIDS activists, it was your story too. How did it feel to re-create history that you actually lived?
It did strange things to my head. Seeing actors portray people I once knew, people I still know, was a weird experience. It's an important project, especially at a time when legislation is being put in motion to deny history and progress, to deny gay folks a place in the United States. So, yeah, I'm excited about When We Rise. And we still have to be vigilant and let people know that HIV is still out there and still getting people. You know, this miniseries will be new information to a generation or two. It seems like nobody knows their history anymore. Everybody's too busy swiping left and swiping right. My generation learned about World War II from movies like The Diary of Anne Frank and we learned about slavery from watching Roots. So, yeah, I'm excited about When We Rise. It's a history lesson for us all. [Laughs] And it made me feel really old!
The View, Weekdays, ABC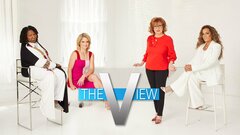 Powered by